A new way in which the Moon Village Association (MVA) may contribute to humanity's journey to the Moon is through the development and implementation of payloads to the lunar surface fostering global cooperation and inspiring the public.
In particular, the first MVA payload team has decided to develop a camera mounted on a lunar lander. This camera would look back at Earth with the goal to re-enact and renew the famous "Overview Effect", as well as to be used for some scientific investigations. The Earth images will be accessible via the MVA website. In addition, the camera will have a radiation sensor that can measure the radiation intensity at the surface of landing area; moreover, the radiation readings will be interpreted into "sound signals" which can be used as an exciting effect with the image to create more publicity "you can hear and see the lunar surface!"
The "Overview Effect", originated from Earth pictures taken by the Apollo missions, was at the root of the environmental movements and it embodies the spirit of cooperation that the Moon Village has. It will be a powerful tool to raise awareness of the Moon Village and its relevance for Earth sustainable development. Future MVA payloads more oriented to test new technologies and ways of cooperating in the Moon Village will be defined later.
It is anticipated that the imaging payload would be small and as simple as possible, so that it would be mounted on a lunar lander, planned during the next two years.
The Moon Village Association would like to invite institutes to participate in the development of this project that is now contemplating: definition, development, launch and operations of a lunar surface Earth-imaging payload.
This invitation is open to all institutional members worldwide; with special emphasis on the developing countries.
The Contribution requested in this call is only "in kind"- No funding is allocated for this call.
The participants in this project would in voluntary basis
Get Involved
Why should you Become a Partner?
If you are a private company/ start-up willing to demonstrate your technology in a lunar mission, you may build your part and send it to the moon with us- this would be your contribution in kind!
If you are a large company, we can link you to potential partners, open new markets and provide you with a link to our outreach network.
If you are an emerging space agency/ organization and wish to develop the capacity of your personnel, what would be better than having a footprint at a lunar mission? Our partner will support you get involved in the process.
If you are a university (team), and have a passion about the moon; you can join this mission to satisfy your enthusiasm.
System block Diagram
The camera system will be mounted on lander, so all interfaces will be defined and allocated to each partner.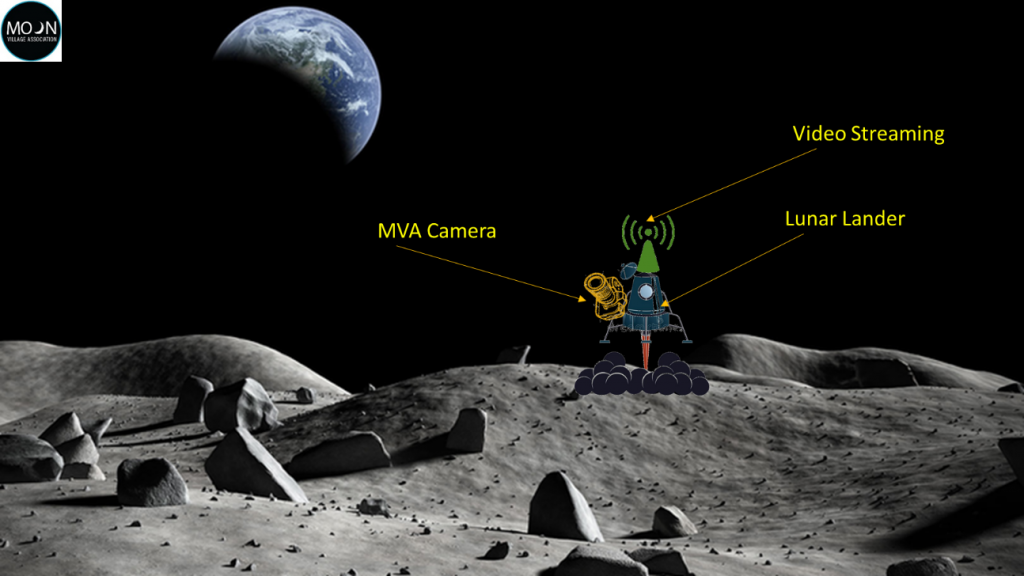 The following block diagram illustrates the detailed technical parts of the camera system and its allocation to partner(s).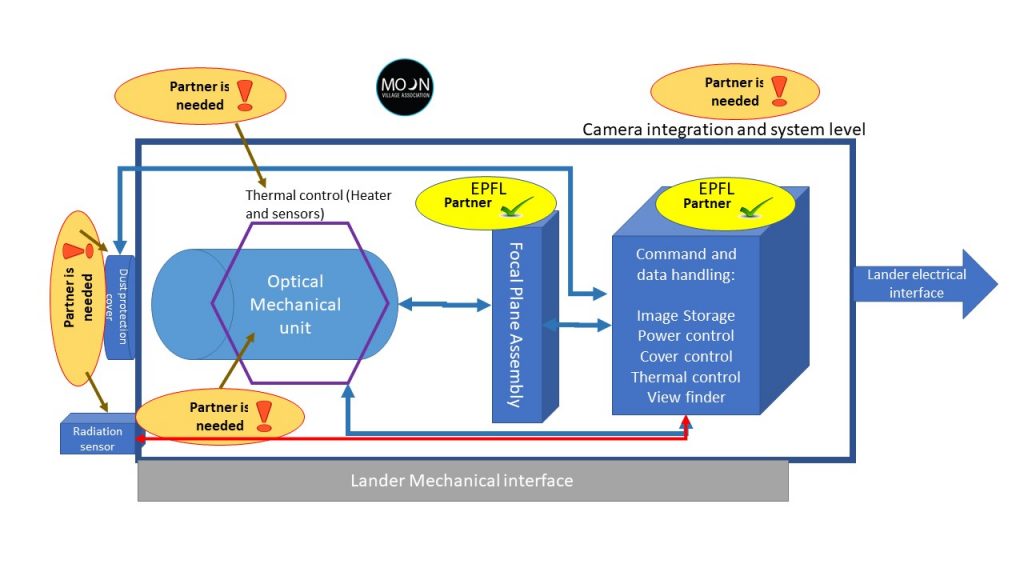 Work packages:
Camera Electronics WP: EPFL (https://www.epfl.ch/en/) is already selected as partner for this work package.
Radiation sensor WP: In addition to the camera optical system a radiation sensor will be mounter at the external surface of the housing, this can measure the radiation intensity at the surface of landing area; moreover, the radiation readings will be interpreted into "sound signals" Partner is expected to develop such radiation sensing system with its external digital read out circuit to be connected to command and data handling subsystem.
Optical- mechanical WP(s): we are looking for an institute that can take the role of the optical-mechanical design which will be a voluntary design, fabricate and assembly of an optical mechanical system which will be able to survive the lunar harsh environment, and take a good image of the earth. The image quality will be assessed based on the MTF and SNR. The system is miniaturized to facilitate the thermal stabilizations and dust mitigation thought shutter mechanism. MVA would expect a partner that is able to reliably provide this module, which will be negotiated and agreed between all parties/ members.
In role we are looking for more than one partner that can provide one or more of the following:

optical design and / or manufacturing.
Mechanical Design and / or manufacturing,
Thermal control design and / or manufacturing,
Lunar environment simulation (thermal, radiation, regolith)
Mechanism design and / or manufacturing

MVA understands that the effort is voluntary and would not expect an expensive component and / or modules.

System Level design and lander interfacing: we are looking for an institute that can take the role of the system level design and lander interface. The expectation is to have a good experience in different kinds of landers and potential lunar missions in the next few years; in addition, this partner will manage the interface between the camera system (electrical, mechanical and environmental) interface requirements and the potential lander system. The partner shall provide documentation that allows an integration of the camera system as a whole, and with the lander system- once selected at the final phase. An advisory of lander system selection would be appreciated.
Additionally, the partner may provide the assembly integration and testing process to the camera subsystems.
Supporting partner: this work package is dedicated to new ideas and partners who are willing to participate in the project for the sake of capacity building, providing regional outreach and/ or conducting a research;
MVA would like to address regions where such kind of activities are not covered yet; hence we expect an educational partner who can provide training sessions and educational activities for students and researchers at potential countries.
MVA is looking at selection of Lunar lander, if you wish please apply for this opportunity.
Note that in one position, one or more than one partner may be selected. The tentative time plane for the project is shown.

For more information about the project status please see the presentation.
If you wish to participate in this exciting project, please provide your response by return email to:
Dr. Ayman Ahmed, Project Manager: ayman.ahmed@moonvillageassociation.org,
with copy to: Glafki Antoniou, MVA Management Support: mva-aso@cseo.org.cy
Please include in your email:
Institutional profile,
Brief description of relevant experience or projects;
Please indicate in your response how you wish to participate and who from your organization would be the contact point.
What role your institute wish to take (please select at least one from the mentioned topics below)
Please note that this is NOT an invitation to submit project proposals
We are anticipating that applicants will be an institutional member of the MVA once accepted.
We look forward to hearing back from interested institutes, universities, companies, agencies and authorities by return email, not later than June 25, 2021.
Following the evaluation of the inputs received, the selected candidates will be contacted to initiate the project as soon as possible.