MVA National/Regional Coordinators is a one year volunteer position that offers a chance to lead and be responsible for the voice of the MVA in your region, especially as activities and excitement for the Moon Village expand around the world!
Click here to see our volunteer opportunities
AFRICA
Regional Coordinators:
East Africa: Jonas Tobiassen
North Africa: Moataz AbdelAzim
West Africa: Nelly-Helen Ebruka
National Coordinators:
Cameroon: Charles-aime Nzeussi Mbouendeu
Egypt: Hoda Awny El-Megharbel – Mina Takla
Kenya: Andrew Otieno Nyawade – Nuria Ali
Mauritius: Neha Bullywon – Varishth Baluckram
Nigeria: Damilola Oladeji – Veronica Chigoziri Obodozie
Senegal: Ousmane Ngom
Sierra Leon: Alimamy Lewis Seray Conteh
South Africa: Kgomela Letsoalo
Togo: Aimée Ntumba
Tunisia: Rania Toukebri
Uganda: Kubakurungi saphirah
THE AMERICAS
North America Regional Coordinator: Madhu Thangavelu
Brazil: Ana Castro
Nicaragua: Jaime Tercero
ASIA AND THE PACIFIC
Bahrain: Bernd Hoefer
India: Gracio Joyal Lobo
Jordan: Sahba El-Shawa
Kuwait: Ghanim Alotaibi
Nepal: Anamol Mittal – Raman Pandey
Thailand: Wares Chancharoen
Turkey: Itir Toksoz
EUROPE
Belgium: Lari Cujko
Cyprus: George A Danos
France: Sebastien Drochon
Greece: Markella Bourmpou, Christophe Bosquillon
Hungary: Dr. Tibor Pacher
Italy: Molisella Lattanzi
Luxembourg: Abhishek Diggewadi
Russia : Yury Razoumny
Spain (Catalonia): Guillem Olivella
UK: Swetha Kotichintala
Ukraine: Volodymyr Kigitov
You can contact the MVA Regional Coordinators via our contact page.
---
Global Events
<!=========Events Timeline Template 1.7.1=========>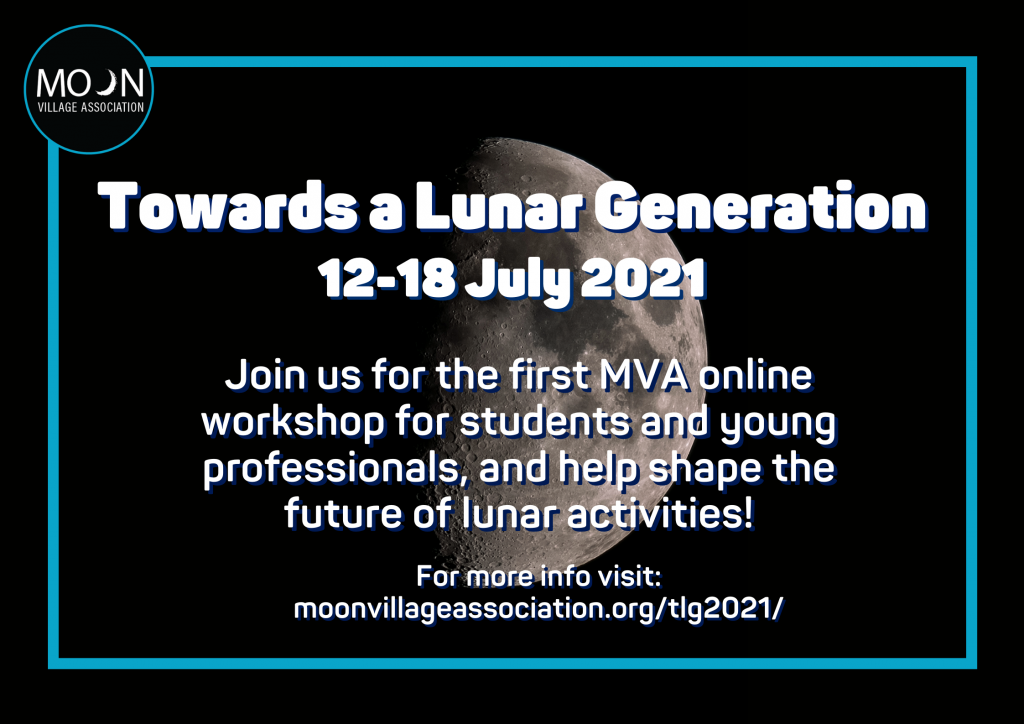 The Moon and the Next Generation Workshop is an event focused on students and young professionals, aiming to explore new areas of activity for the Moon Village Association, and engage with the next generation on the future of MVA and the Moon Village.
About a hundred participants will join experts from across the space industry in a series of workshops, talks and networking events.
Find out more »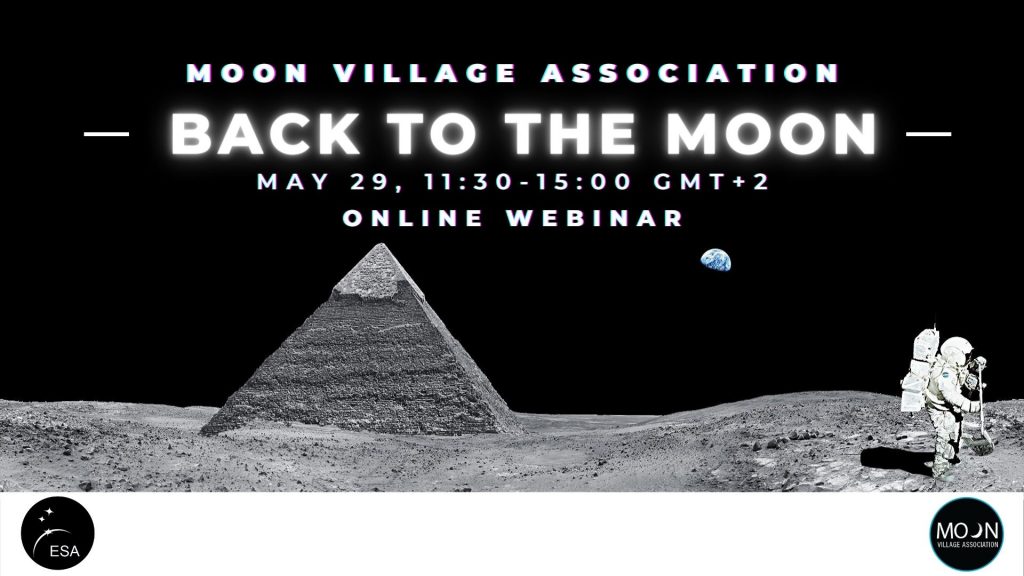 We are aiming for the Moon! Are you an undergraduate or a graduate STEM student interested in space exploration? Have you been fascinated by the space sector and wanted to specialize or do your thesis in space-related research? Then MVA-Egypt "Back to the Moon" Online Webinar is meant for you! Our goal is to encourage Egyptian students to get involved in research about lunar exploration. However, this webinar is designed to provide professional development and networking opportunities for university students all over the world. Join us on a series of lectures by subject matter experts in the space industry from…
Find out more »

More information on the IAF website https://www.iafastro.org/events/iaf-gnf-space-conversations-series/moon-village-association-latest-developments.html
Find out more »
Program of the Round Table as part of Galassica festival Introduzione (GR) MVA Italia- Presentazione degli obiettivi e programma preliminare (Molisella) Il Villaggio Lunare per i giovani (Giulia Bassani) Non space companies go to the Moon (Jim Keravala, Membro del Board MVA) Il Futuro Prossimo Possibile nello Spazio e sulla Luna (Gennaro Russo, IIF-CNS) Dall'Overview Effect al turismo lunare: quale approccio culturale ai prossimi viaggi spaziali?(Remo Rapetti) Tecnologie di esplorazione per Luna e Marte (Antonio Del Mastro; Mars Planet) Domade e Risposte con il publico More informarion on Gallassica Website
Find out more »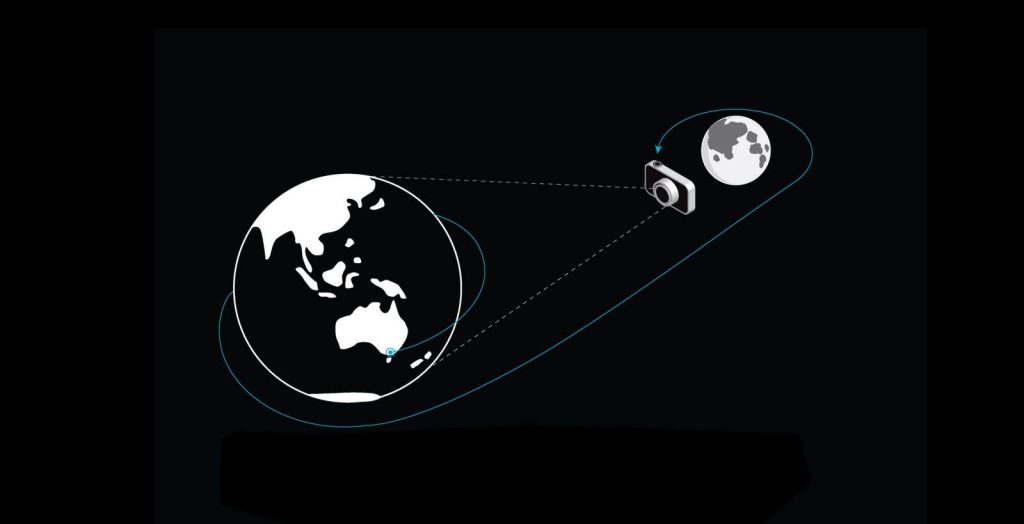 Come and hear presentations by prominent space-thinkers & thinkers alike who are experts in their fields, followed by a public discussion convened by Annie Handmer. Many governments and private companies plan in the coming years to venture to the moon for scientific purposes, resource exploration and long-term human habitation. We ask the question: can going to the moon reconcile Earth? The plan is to give the public a voice in the Moon/Earth relationship in context of Moon Village Association launching an ambitious project to send a camera to the moon for a live video stream for one day of the…
Find out more »

The Opening of the MVA French Network. In this 21st century, we are trying to reach the moon and the stars once again. But this time we want to settle there. In this event is to present the main challenges and opportunities of the Moon Village and the contribution that the MVA is bringing to its implementation. This event will represent the opening of the MVA French network and explain how people can join the MVA. The event is organized with the Moon Village Association in cooperation with RST Arches, the International Space University and the Paris Val de Seine…
Find out more »

Join the Moon Village Association for an interdisciplinary discussion on March 15, 2019. Program: 17:00 - 17:10 Intro to the MVA17:10 - 18:00 Speaker Presentations18:00 - 18:50 Interactive Q&A Panel Discussion18:50 - 19:00 Conclusion & Remarks Speakers Professor Ian Crawford (Professor of Planetary Science and Astrobiology, Birkbeck, University of London)Lisa Pettibone (Artist in residence, Mullard Space Science Laboratory, UCL)Dr. Elisa Raffaella Ferre (Senior Lecturer in Psychology, Royal Holloway, University of London)Vix Southgate (World Space Week Coordination Manager, British Interplanetary Society)Armin Ziadlourad (President of SpaceTech Society, UCL) Moderator: Paul Iliffe (MVA UK Regional Coordinator)
Find out more »

Moon Village Association Presents: Public Forum on the Moon to be held on March 2, 2019 in Melbourne, Australia. The event is made in association with Office of Other Spaces, WorldSpaceWeek and the MVA. Earths oldest companion, the Moon, has forever transfixed our imaginations. For the 50th anniversary of humans walking on the Moon, join us for a discussion about the future of the Moon and how the Moon could help Earth. Four sessions: Environment, Mining/Robotics, Medical & Space Industry. Ten-minute presentations from four-panel members per session with a public discussion within each session. We'll capture this discussion by writing…
Find out more »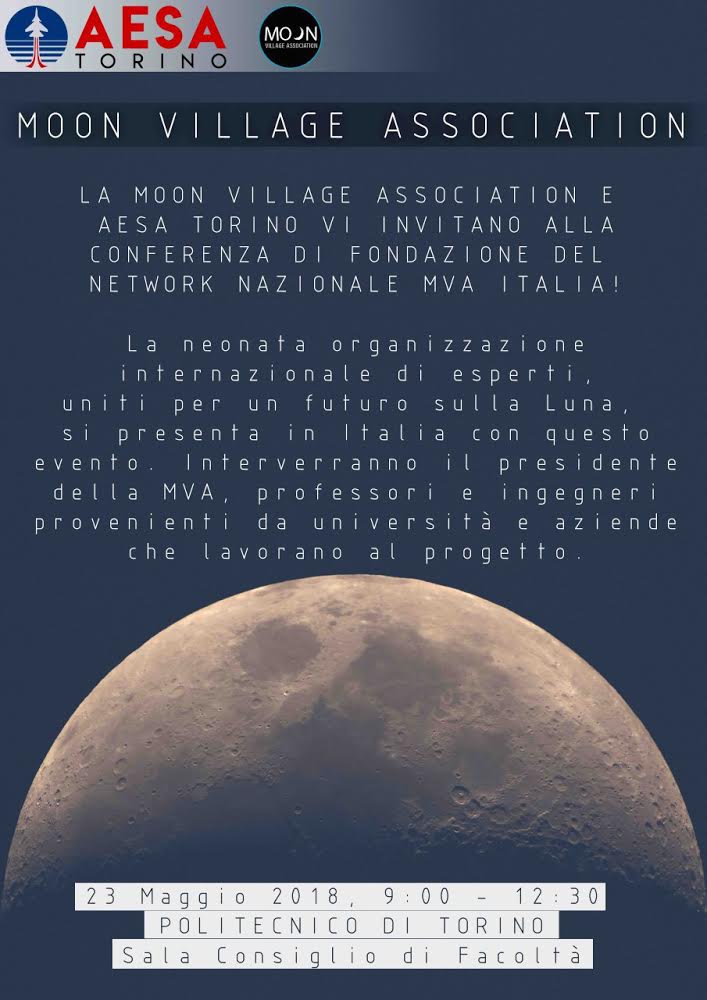 This year will expand even more the MVA frontiers and include Italian Network to the Association by holding the first Inaugural Meeting in Italy. In Torino, Italy on May 23 2018, researchers and professionals from all the country and abroad will be invited to attend the Conference on the Moon Village Association and listen about more activities and updates. It will also be a good opportunity to put together scientists, physicians and propose activities in Italy. Don't miss the MVA scientific and social sessions in Torino!
Find out more »