In September of 2022 during the MVA Open Floor Meeting at the IAC-73, the Moon Village Association (MVA) in cooperation with the leading Ukrainian space engineering company – Yuzhnoye State Design Office launched the 2nd PromoMoon Initiative for Moon Village Generation in honor of Dr. Alexander Degtyarev – aimed to inspire the new generation of inventors to develop ideas for future sustainable lunar activities and provide an opportunity to advance the engineering maturity level.
The initiative received proposals from teams of individuals and startups from 6 different countries presenting novel ideas, concepts, and solutions on lunar technologies falling under the following categories: 1) transportation to and from the Moon, 2) transportation on the Moon, 3) Power systems for the Moon infrastructure (production, storage, distribution), 4) Infrastructure, construction, and ISRU on the Moon, and 5) Other.
After the final round of evaluation, it is our pleasure to announce the winners of the 2nd PromoMoon Initiative.
Top three winning proposals (in no particular order).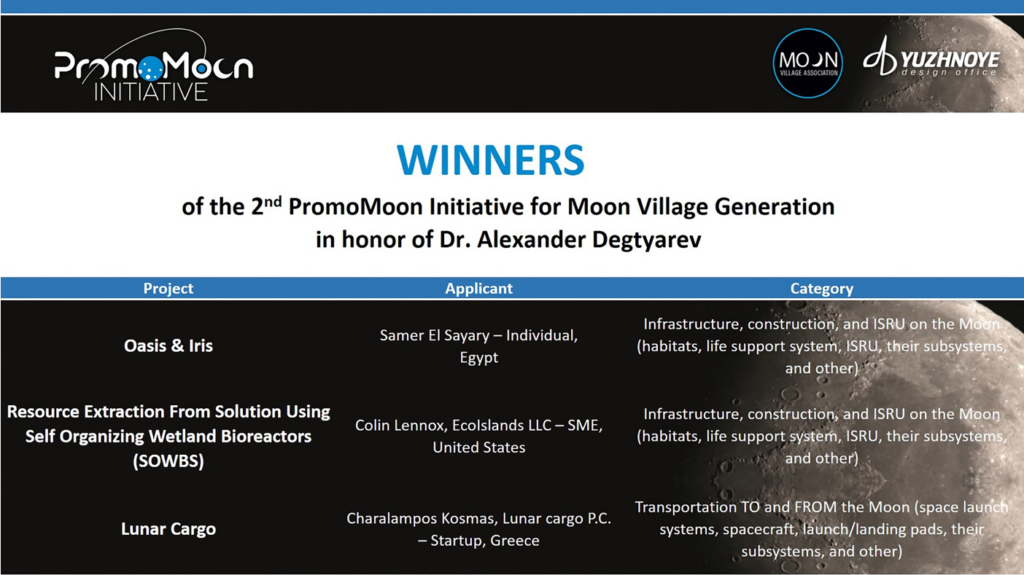 Our sincere congratulations to the winners!
The winners of 2nd PromoMoon Initiative will be receiving free-of-charge B2B mentorship from experts on lunar technologies. In addition, the teams will be given the opportunity for their work to be featured in a paper to be presented at the International Astronautical Congress (IAC) in Azerbaijan in October 2023.
Mentorship Sessions: June 26, 2023 – July 10, 2023
PromoMoon-2023 Closing Ceremony: July 20, 2023 (the International Moon Day)
For any questions, please contact Bernadette Detera at gro.n1695493686oitai1695493686cossa1695493686egall1695493686ivnoo1695493686m@are1695493686ted.e1695493686tteda1695493686nreb1695493686