Cultural WG webinar – Deep Space: Awe Or Fright?
June 06
@
18:00
–
19:30
CEST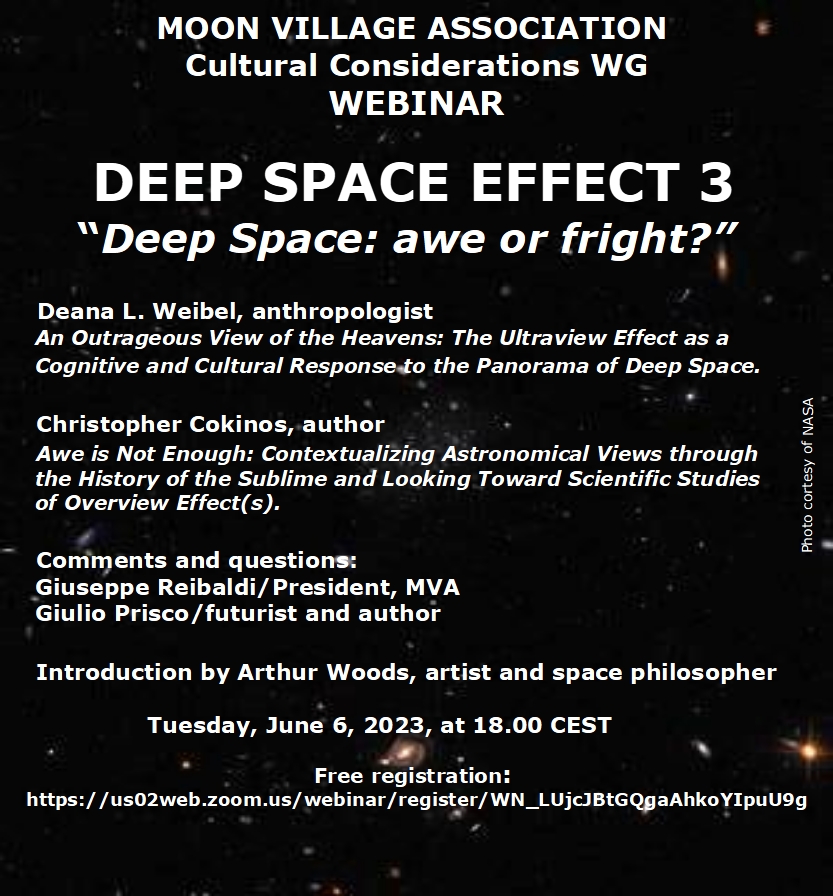 "However, what seems to be missing is a 'definition' of the Deep Space Effect: Is it the blackness (or death) as mentioned by Shatner or the enrapturing beauty of seeing the Cosmos like looking at the Milky Way in its full spectacular glory. Or is it a psychological effect of distance, and loneliness and a yearning to return to Earth?" (Arthur Woods)
This third webinar about the topic of The Deep Space Effect will try to answer these questions and achieve some firm point in this long discussion.
Registration
Agenda:
Introduction – Arthur Woods, artist and space philosopher
An Outrageous View of the Heavens: The Ultraview Effect as a Cognitive and Cultural Response to the Panorama of Deep Space – Deana L. Weibel, anthropologist
Awe is Not Enough: Contextualizing Astronomical Views through the History of the Sublime and Looking Toward Scientific Studies of Overview Effect(s) – Christopher Cokinos, poet and author:
Comments and questions by:
Giuseppe Reibaldi, President, MVA
Giulio Prisco, futurist, cosmist and author
Deana L. Weibel,Ph.D. is a Professor of Anthropology at Grand Valley State University with a joint appointment in the Religious Studies program in the Integrative, Religious, and Intercultural Studies Department. She has held a lifelong interest in voyages, studying pilgrimage, tourism, and scientific expeditions and the religious and spiritual meanings they, and the places visited, hold for those voyaging.Recent publications on religion and space include "Pennies from Heaven: Objects in the Use of Outer Space as Sacred Space," "Destiny in Space," and "Following the Path That Heroes Carved into History: Space Tourism, Heritage, and Faith in the Future."
Christopher Cokinos, is the author of many books, among which Falling Skies: An Intimate History of Shooting Stars and the anthology Beyond Earth's Edge: The Poetry of Spaceflight. His new nonfiction book, Still as Bright: A Backyard Journey through the Natural and Human History of the Moon, is forthcoming in 2024. He has taught at Kansas State University, Utah State University and at the University of Arizona, where he taught creative writing, the history of science fiction, and science communication. Recently he has been the leader of an all-artist lunar analog mission at SAM, the Space Analog for the Moon and Mars at Biosphere 2.