MVA Jordan – JSRI Space Architecture Series: Designing Lunar Habitats
August 05, 2022
@
17:00
–
18:00
CEST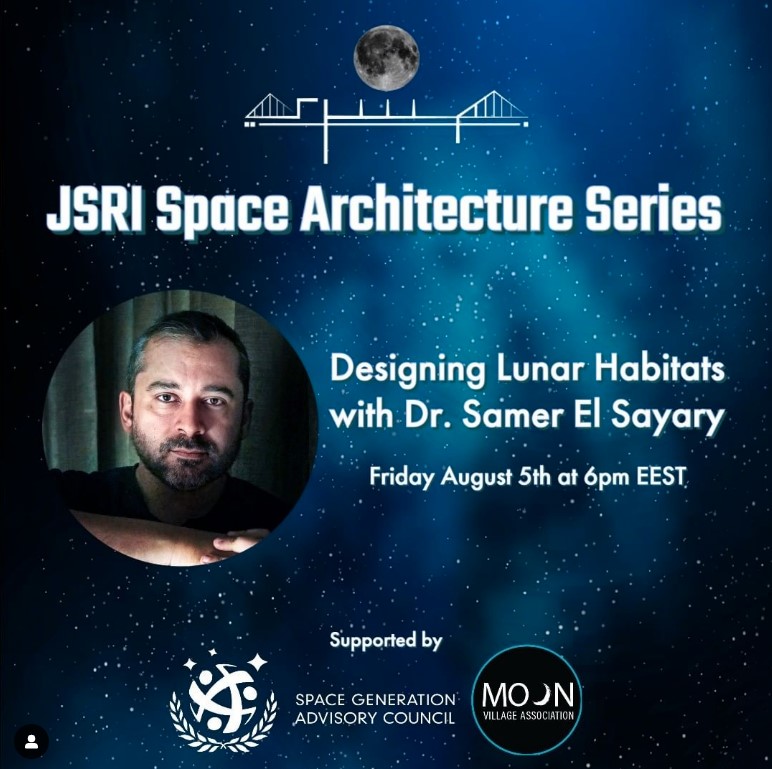 JSRI is kicking off a Space Architecture webinar series as part of our ongoing competition! The series will feature distinguished space architects who will present their work and design considerations, giving competition participants a chance to learn from experts in the field and get guidance on their designs for JSRI's space analog facility.
We are proud to announce our first invited speaker:
Dr. Samer El Sayary is an assistant professor of architecture, researcher, and award-winning architect with a passion for space architecture. Over the years, he has received many national and international awards (40 awards and prizes til 2021) from 4 different continents, including: 1st Prize Mars City design foundation (Los Angeles, 2017), Jacques Rougerie Foundation (Paris, 2016, 2018, 2020), Kuala Lumpur International Architectural Festival (Malaysia, 2019), 1st Prize Mediterranean scientific forum "MEDIBAT" (Tunisia, 2011), and Hasan Fathy Award for sustainable architecture (Egypt, 2011, 2013). His work has been exhibited at NASA Johnson Space Center and the United Nations Office For Outer Space Affairs (UNOOSA), as well as in France, Greece, Tunisia, and Malaysia to name a few. Dr. El Sayary has given workshops in 13 different countries with over 10,000 trainees during the last 20 years. He has given numerous public talks and been featured on the Discovery channel, Wired magazine, Forbes Middle East, TEDx BAU, as well as many others. He has also served as a jury member for various international design and architecture competitions for the Mars Society, IDS Cairo, BIM Africa, and more.
Join us for our first webinar this Friday at 5pm CEST to learn more about designing lunar habitats with Dr. El Sayary! The webinar series is open for everyone to join, however JSRI competition participants will be given priority to ask questions during the Q&A.
Zoom details will be shared through Eventbrite, register at tiny.cc/jsri-series
The series will be moderated by Sahba El-Shawa, JSRI founder and national coordinator for Jordan in the Moon Village Association as well as the Space Generation Advisory Council.
Stay tuned as we announce more speakers over the coming month!