MVA Pakistan Webinar – Lunar Imaging & Data Processing
June 25, 2022
@
20:00
–
21:00
PKT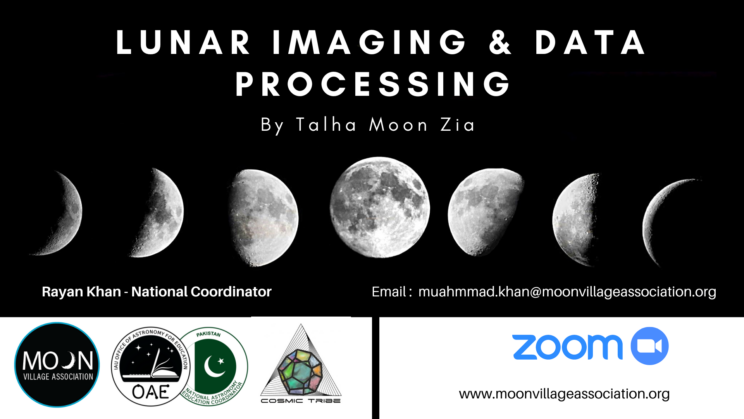 When: Jun 25, 2022 08:00 PM Islamabad, Karachi, Tashkent
Register in advance for this meeting:

https://us02web.zoom.us/meeting/register/tZwkf-qupzssGdMcFN_VR54OrcjPMCGu6fRX

After registering, you will receive a confirmation email containing information about joining the meeting.
Agenda:
In this webinar our speaker is going to talk about his lunar imaging experience and share his techniques of lunar imaging and data processing.Image processing is a method to perform some operations on an image, in order to get an enhanced image or to extract some useful information from it.
Event details are mentioned below:
Speakers Full Name: Talha Moon Zia
Biography of Speaker:
Talha Moon Zia is a research astronomer at Exascale Open Data Analytics Lab- NED University of Engineering and Technology Karachi & M.Phil. scholar at Institute of Space Science and Technology. University of Karachi.His lunar images featured at NASA's Astronomical Picture of the Day (APOD) website and his work also get featured on different platforms including: European Sky Agency (ESA) photo community page, Forbes, Astronomy Magazine, spaceweather.com, Earthsky.org, media.inaf.it, Dawn newspaper, the News paper, photographingspace.com, in the newsletter of astronomical society of Durban,South Africa.He is also a member of Karachi Astronomers Society (KAS).
Organizer: Muhammad Rayan Khan – MVA National Coordinator of Pakistan
Some links of his work : Astronomy Picture of the Day 2022,