MVA Participation on RUDN University Space Week
October 05, 2021
@
15:30
–
16:00
CEST
MVA President, Dr. Giuseppe Reibaldi, will be participating in the RUDN University Space Week with the presentation "Moon Village Association contribution to sustainable lunar activities", on October 5.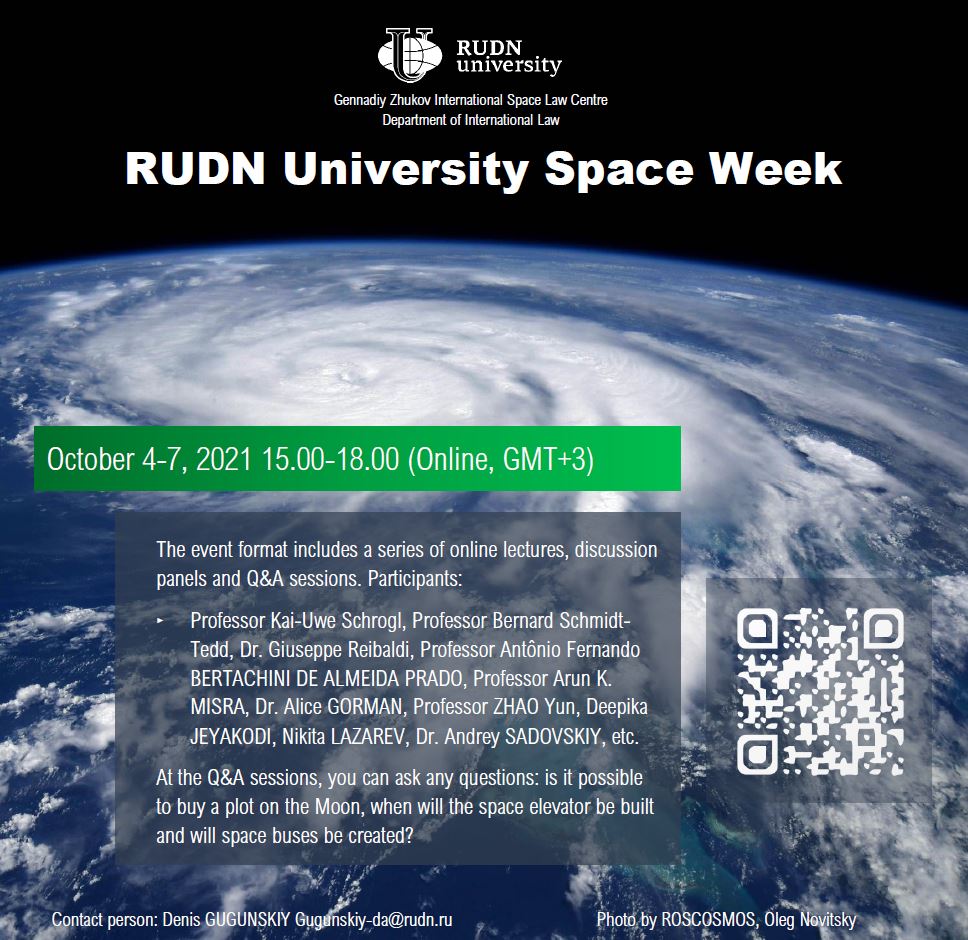 RUDN University Space Week
October 4-7, 2021, the University will host RUDN University Space Week for the first time. A series of panel discussions with prominent representatives of the space science will be organized within 4 days.
In 2021, despite the ongoing COVID-19 pandemic, there was a boom in space activities: the landing of the Perseverance rover on Mars, the launch of the first module of the Tiangong space station, a series of suborbital human flights into space, which gave a new round to the era of space tourism. These events affect not only the development of humanity, but the evolution of space law.
On December 6, 1999, the UN General Assembly proclaimed World Space Week as an annual holiday. This event is celebrated every year from October 4 to 10. The choice of the period is based on two important dates in the history of cosmonautics: the launch of the first artificial satellite of the Earth and the signing of the Outer Space Treaty of 1967. The purpose of this event is to celebrate the contribution of space science and technology to improving human living conditions. This idea inspires students, contributes to the formation of future specialists, and demonstrates significant public support for space activities.
October 4-7, 2021, within the framework of the World Space Week, the Zhukov Center for Space Law of the Department of International Law will hold together with the RUDN University Engineering Academy – RUDN University Space Week. The event format includes a series of online lectures, discussion panels and Q&A sessions. Among the outstanding participants and partners of the event are representatives of the International Institute of Space Law (IISL, Paris), Moon Village Association (Vienna, Austria), Airbus Defence and Space (Leiden, the Netherlands), Eutelsat (Paris, France), Endurosat (Sofia, Bulgaria), International Organization of Space Communications «Intersputnik», Indian Space Research Organisation (ISRO), National Institute of Space Research (INPE, São Paulo, Brazil), Space Research Institute of the Russian Academy of Sciences, Russian Centre for Science and Culture in Mumbai, McGill University (Montreal, Canada), University of Hong Kong, Flinders University (Adelaide, Australia), ROSCOSMOS Academy. At the question-and-answer sessions, you can ask any questions: is it possible to buy a plot on the Moon, when will the space elevator be built and will space buses be created?
The working language of the event is English, simultaneous translation is not provided.
To get into the fascinating world of space, you need to click on the link http://intlaw.rudn.ru/en/research/space-week/ and register for the event.