MVA & JAXA Webinar: Moon surface mobility in the decades to come
December 14, 2022
@
14:00
–
15:30
CET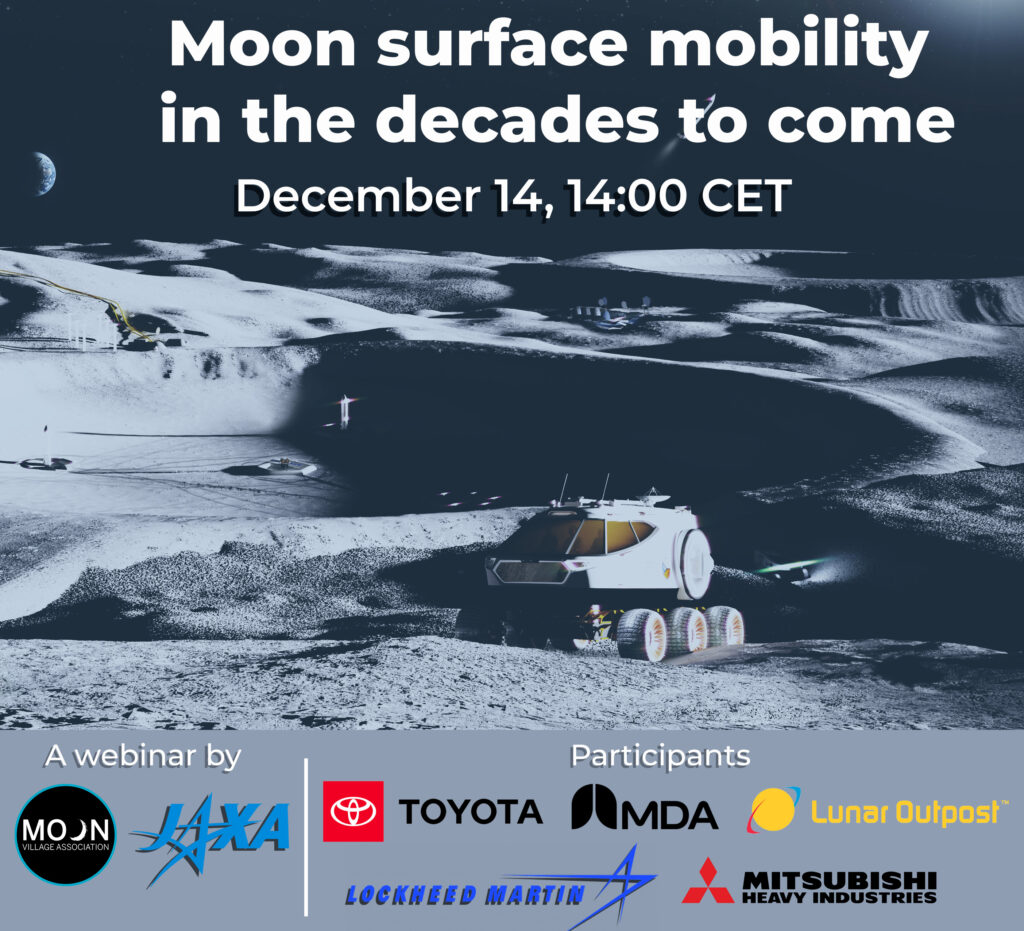 The third in the series of webinars "Non-Space Business Goes to the Moon"
Co-organisers: MVA and JAXA
Participants: MHI, Toyota, Lockheed Martin, MDA, Lunar Outpost
When: December 14, 2022 from 14h00 to 15h30 CET
Moon Village Association (MVA) and Japanese Space Exploration Agency (JAXA) will host on
December 14, 1400 CET a webinar on the topic of 'Moon surface mobility in the decades to
come'.

One of the top priorities for MVA in the context of the Moon Market creation is engagement of the
non-space companies. The webinar is third in the series of 'Non-Space Business Goes To The Moon'.
JAXA is currently very actively working on the Pressurized Rover, which will be used for moon
exploration and utilization in near future. For this study, JAXA is co-working with the Japanese
automobile industries and space industries to gather all the technologies, ideas, and heritage from the
past to realize the world first-ever pressurized rover on the moon.

In this webinar, we will be joined by Mitsubishi Heavy Industries (MHI), Toyota, Lockheed Martin,
MDA and Lunar Outpost. The combination of experts from both space and non-space industries will
introduce the opportunity the sector brings in the coming decades.

The speakers will address two key topics:
Designing smart lunar vehicle
Infrastructures to support lunar mobility
The webinar will also include a roundtable discussion after each topic, and last for about 1h50.
Moderators:
Oleh Ventskovsky (MVA)
Naoki Sato (JAXA)
Speakers:
Hiroaki Kodama (MHI)
Yamaguchi, Junichi (Toyota)
Derek M Hodgins (Lockheed Martin)
Laurie Chappel (MDA)
Justin Cyrus (Lunar Outpost)
Agenda:
Opening remarks (MVA)
Introduction (JAXA)
Topic 1 – Designing smart lunar vehicle
Round table discussion
Topic 2 – Infrastructures to support lunar mobility
Round table discussion
Final wrap-up (JAXA)
Closing remarks (MVA)