We are thrilled to announce the exceptional winners of our highly anticipated Chandrayaan-3 video competition!
In this competition to honor the memory of the late Dr. S. Ramakrishnan, these talented individuals have showcased their passion for space, lunar exploration, filmmaking, critical analysis, and storytelling in their outstanding video essays. From the depths of creative vision to the mastery of technical skills, their videos have captivated us with their originality and depth of analysis about the impact of Chandrayaan-3 to the global lunar exploration industry.
Join us in celebrating their exceptional talent. Congratulations to our winners and to ISRO for a successful launch!
To know more about our winners keep reading below:
For the age group 13-17 years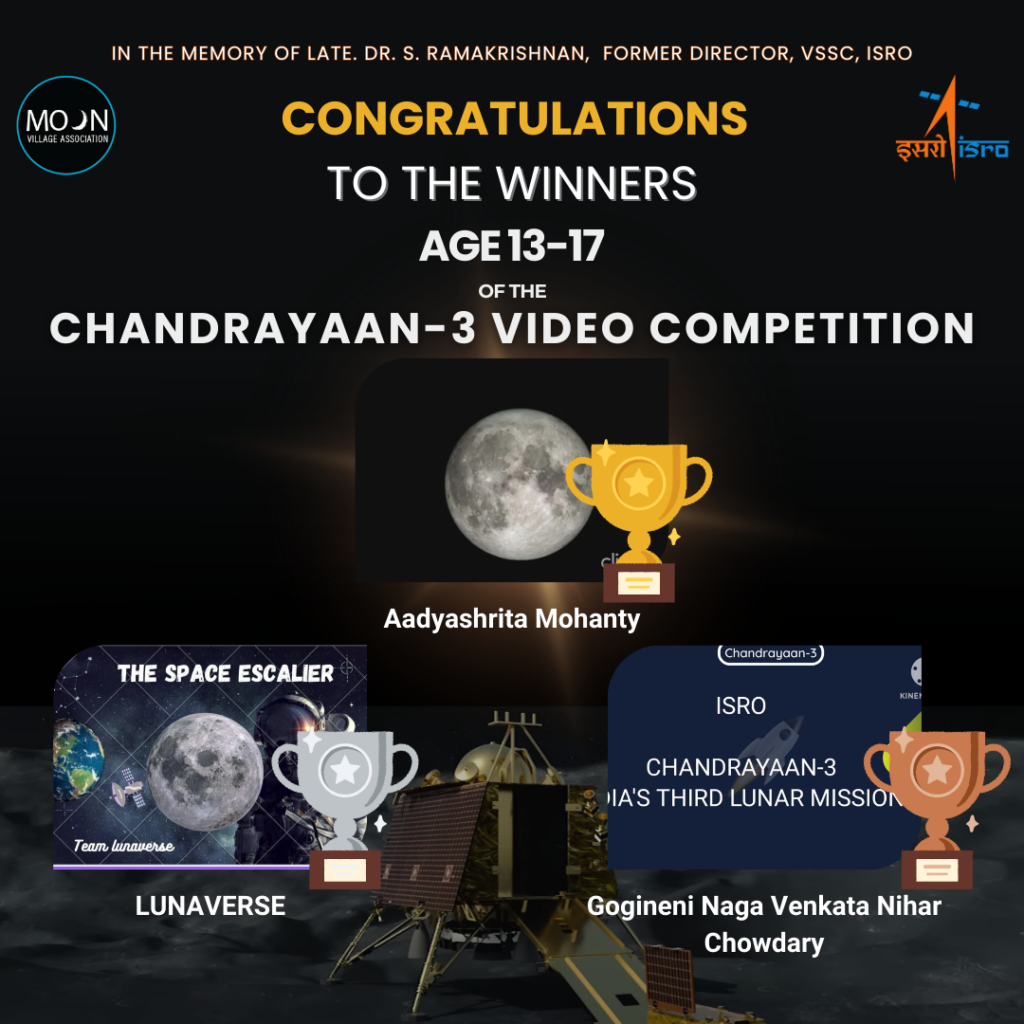 Biography: Aadyashrita Mohanty, a 16 year old student hailing from Odisha, India, is currently studying in 11th grade. She is currently training to crack JEE Advanced and study engineering from one of the prestigious IITs in India. Fascinated by the night sky since childhood, she aims to be an astronaut and contribute towards making the world a better place to live in. Career apart, she harbours numerous hobbies including reading(and other literary activities), photography, physical activities(trekking, jogging,etc), music. She cultivates a deep love for nature, her country and its culture, as well as for other cultures. She never spares an opportunity to learn something new.
2) Lunaverse
Biography: Aayushree Attarde is from India and believes that "Participation is the best method of education." She believes that the launch of Chandrayaan 3 is like a seed from the fruit of hard work. It's small but will gradually grow a tree which will stand tall.It may be a step towards first moon settlement and reveal fossils of old planetary systems She lives by the motto Einstein said -"The important thing is not to stop questioning. Curiosity has its reason for existing." and "Learning never exhausts the mind." It boosted her communication and taught her to convey thoughts systematically. She learnt about the space race , Chandrayaan 1, 2, 3 and spacex as they're putting a lot of effort into space settlement currently and she loved looking at cosmos videos.
3) Gogineni Naga Venkata Nihar Chowdary
Biography: My Name is Gogineni Naga Venkata Nihar Chowdary and I am 17 years old. I live in INKOLLU village in Andhra Pradesh, India. I completed 12 th class and aspiring to do Higher Studies.
For the age group 18-21 years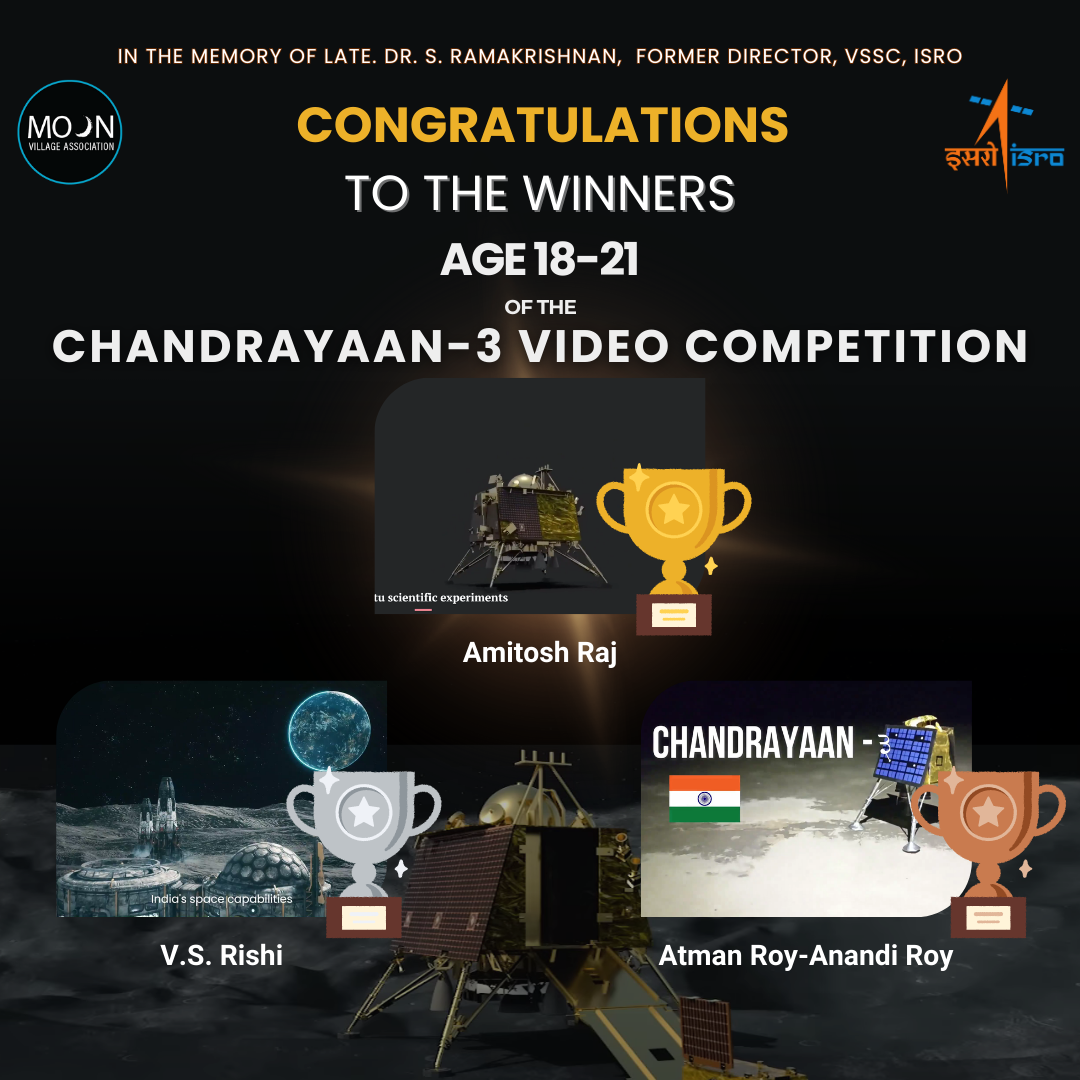 1) Amitosh Raj
Biography: Amitosh Raj, is a talented student from Bihar who is currently pursuing his Bachelor's degree in Computer Science from VIT Chennai. He is in the 3rd year and has chosen the CS core branch,indicating his passion for programming and all things tech. He is an ambitious individual who believes in pushing his limits and achieving his goals. He possesses a sharp acumen for problem solving and loves to find innovative solutions to complex problems. His dedication to his studies and extra curricular activities makes him to stand out from the peers. Aside from academics, he is a passionate learner and enjoys keeping up to date with industry trends and news. He is always eager to learn new skills and technologies, which helps him to stay ahead of the curve in this dynamic field.
2) V.S.RISHI
Biography: V.S. Rishi, is an 18-year-old Indian space enthusiast. His dedication led him to win the ISRO award for his project on space sustainability. Teaching at his local science park and establishing a science club in his community has allowed him to inspire young minds and spread the wonders of science. Beyond his scientific pursuits, he has also excelled in public speaking and global affairs. He was honoured with the Best Delegate award at Model United Nations, where he gained a deeper understanding of global issues and refined his diplomatic skills. Challenging societal stereotypes, he received recognition for his English declamation that questioned false notions of manliness. Believing in the power of social contribution, he actively volunteers and utilizes his knowledge to educate and inspire underprivileged individuals. By combining his passion for space science and dedication to making a positive impact, he strives to bring about meaningful change in society.
Biography: Atman Roy is eighteen years old and has passed Higher Secondary Exams with Physics, Chemistry, Maths in 2023 and is preparing to get into a B Arch programme. He is a recipient of the National award for the best short film on 'Tuberculosis' for his art work in 2014, conferred by the CSIR and has also been awarded for his building plan of a museum for Indian scientists in the year 2021 by 'Vibhavastuki'. He has been granted a five years scholarship by the Ministry of Culture, Govt of India for his creativity in Clay modeling. Atman Roy has been a National Cadet Corps (NCC) cadet during his school years. He likes to create miniature models from sundry materials and is passionate about football. Anandi Roy is twenty years old. She is doing BS-MS degree in IISER, Berhampur, Odisha. She writes a Mathematics blog and is interested in Science fiction.