Cultural WG webinar – Space Design For A New Extra-Terrestrial Human Being
September 15, 2022
@
17:30
–
18:30
CEST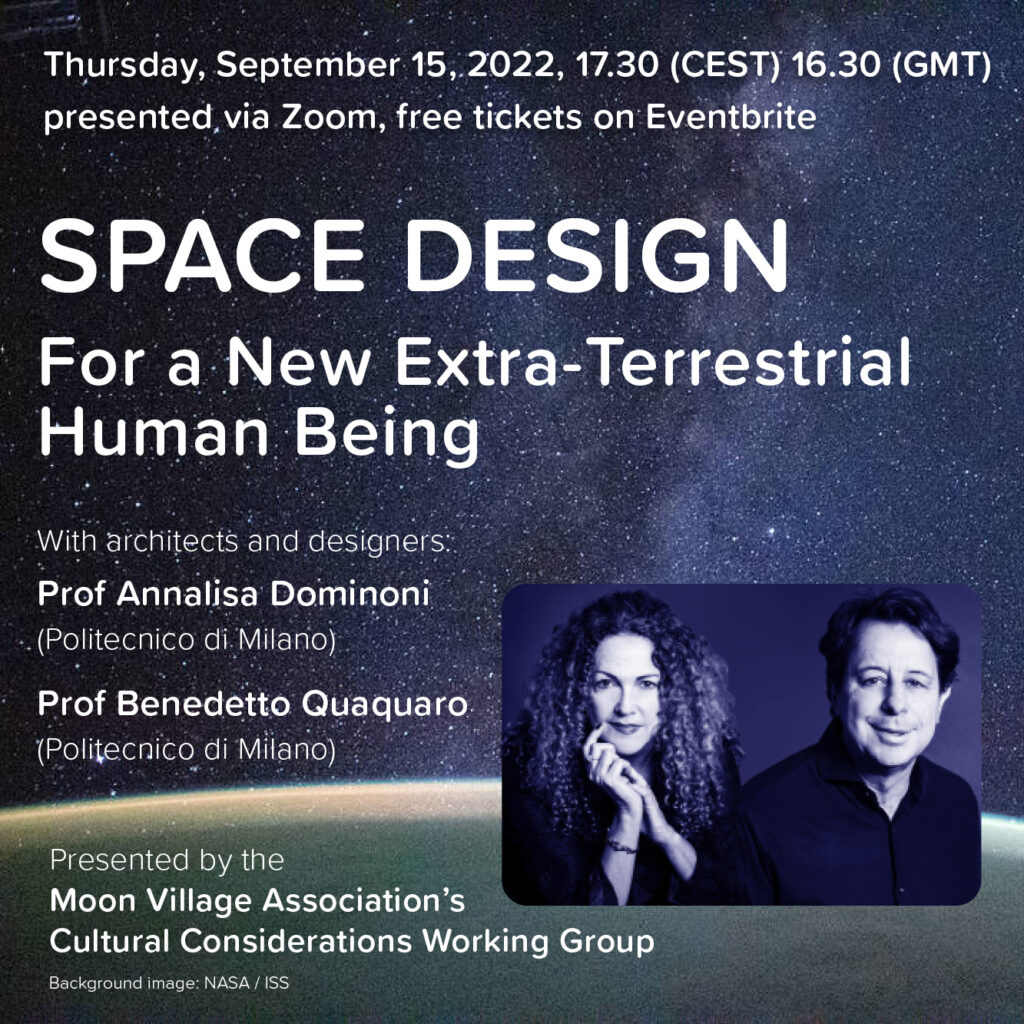 with Annalisa Dominoni & Benedetto Quaquaro
Introduction by Remo Rapetti, Q&A session by Arthur Woods
Thursday, September 15, 2022, at 17.30 CEST
Why "Space Design"? We believe space today, and in the future, will have an ever more decisive influence on the daily life, behaviours and performance of people, and, consequently, on the transformative capacity of private companies to generate innovation and new business models, thanks to the strategic contribution of design. "Go to space" is the new aspirational dream.
Design is visionary, design is innovation, and act as a "bridge" between science and beauty, speaking the different languages of engineering, technology, but also culture, art and economy, keeping at the centre the needs of people, with the aim of increasing the well-being of living space and extreme environments looking at the "human sensible factors".
In this webinar is presented the new emerging discipline of "Space Design" in between space and earth that anticipates the scenario of the future human space missions: if astronauts feel better in a comfortable environment, considering physiological, psychological, and emotional factors, their performance, and the success of the whole mission increase.
The speakers, thanks to their more than twenty-year experience in researching and designing for space at the Design Department of Politecnico di Milano, as extra-terrestrial habitation modules and tools that have been used by astronauts on-board the International Space Station (ISS), have helped assert design's role and purpose in the space field. They created and are leading currently at the School of Design the 1st and unique course in space design called "Space4InspirAction" recognized and supported by the European Space Agency (ESA) in which research and teaching are strongly connected with industry to create a dialogue between space technology and productive knowledge and generate innovation.
Both PhDs, architects, designers and professors, they founded the studio (a+b) in Milan with the aim of doing design by combining research and technological innovation with poetry. They regularly collaborate with leading international space agencies and industries and major design companies, at the same time they conduct research activities at the Design Department of the Politecnico di Milano, together with teaching and publishing essays on the culture of the project that have contributed to affirming the strategic role of design in Space.

Register to participate:
https://us02web.zoom.us/webinar/register/WN_4yP4aL0UR1SIF9TeaIBMRw