MVA Jordan – JSRI Space Architecture Series
August 26, 2022
@
17:00
–
18:30
CEST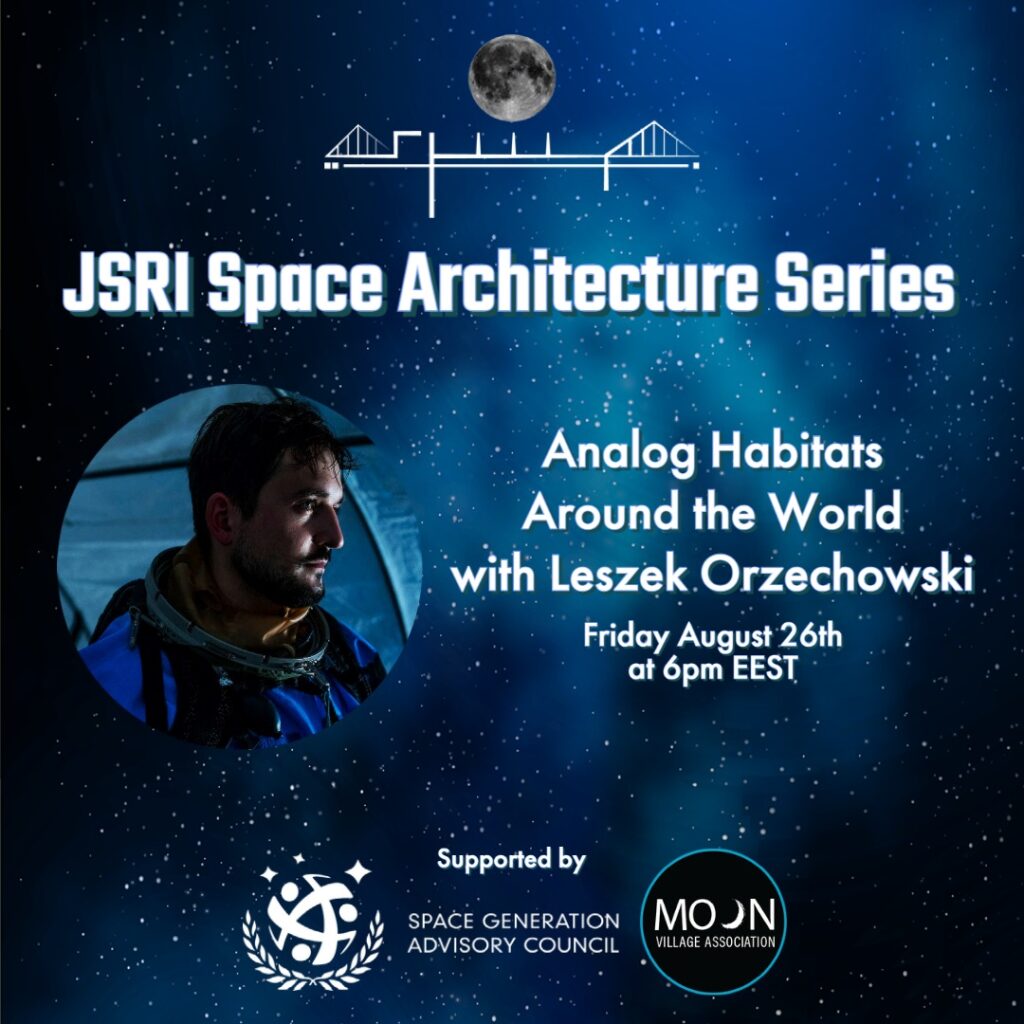 This Friday we will be hosting the third webinar in our Space Architecture Series this month as part of our ongoing competition!
The series features space architects presenting their work and design considerations, giving our competition participants a chance to learn from experts in the field and get guidance on their ongoing designs for JSRI's space analog facility.
We are pleased to announce our third invited speaker and long-time collaborator:
Leszek Orzechowski is an architect and founder of Space is More – a space architecture company that also runs Lunares Research Station – a European analog habitat. Leszek is an enthusiastic science advocate with hundreds of lectures presented to the public and an award-winning designer. His group created a number of scientific reports on the future manned Moon and Mars missions presented during international competitions and conferences. Space is More was a part of a winning team in ESA – European Space Agency Moon Challenge for a report on returning to the Moon in the next decade and a finalist of NASA – National Aeronautics and Space Administration 3d-Printed Habitat Challenge phase 1 from 2015. The team won multiple architectural awards for Mars bases and habitats including Marsception (2018) and Mars Colony Design Competition (2019). Currently, Leszek is leading operations and research at LunAres Research Station.
Join us for our webinar this Friday at 6pm EEST (Jordan time) to learn more about space analogs around the world! The webinar series is open for everyone to join, however JSRI competition participants will be given priority to ask questions during the Q&A. Zoom details will be shared through Eventbrite so make sure to register before the event at: tiny.cc/jsri-series
The series will be moderated by Sahba El-Shawa, JSRI founder and national coordinator for Jordan in the Moon Village Association as well as the Space Generation Advisory Council.
Stay tuned as we announce our final speaker for the series!
Join the webinar
https://us02web.zoom.us/j/83388553102