Literary Luna – Cultural Considerations WG webinar
January 12, 2021
@
18:00
–
19:00
CET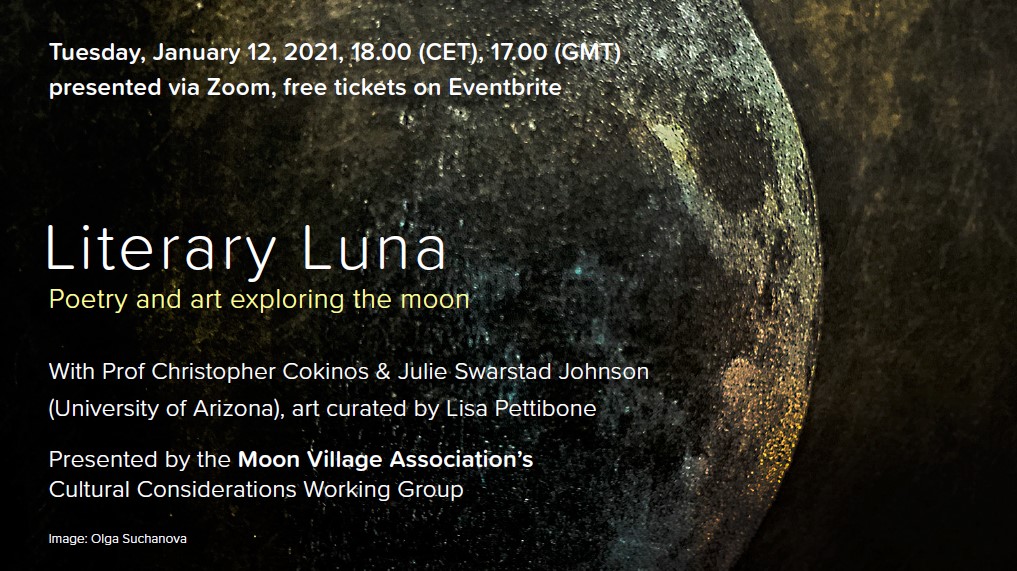 A presentation of contemporary poetry about the Moon by Christopher Cokinos and Julie Swarstad Johnson, supported by a show of works of art curated by Lisa Pettibone.
Agenda
Remo Rapetti: Introduction 5′
Christopher Cokinos and Julie Swarstad Johnson: Literary Luna 30′
Lisa Pettibone: Art and the Moon 10′
Arthur Woods: Q&A session
Speakers
Christopher Cokinos is the author or co-editor of seven books, including The Fallen Sky: An Intimate History of Shooting Stars, for which he was awarded a National Science Foundation grant and participated in a scientific expedition to Antarctica, and The Underneath, winner of the New American Press Poetry Prize. His work has appeared in such venues as SkyNews, Sky & Telescope, The Space Review, Scientific American and the Los Angeles Times. He is also co-editor of the anthology Beyond Earth's Edge: The Poetry of Spaceflight, just out from the University of Arizona Press.
Julie Swarstad Johnson is the author of the poetry collection Pennsylvania Furnace (Unicorn Press, 2019), as well as the poetry chapbook Orchard Light (Seven Kitchens Press, 2020). She has served as Artist in Residence at Gettysburg National Military Park, and she is co-editor of Beyond Earth's Edge: The Poetry of Spaceflight (University of Arizona Press, 2020). She lives in Tucson, Arizona, and works as a librarian at the University of Arizona Poetry Center.
Lisa Pettibone, originally from California, is a UK based visual artist and curator working at the intersection of art and science. With an interest in astronomy and physics, her practice investigates how form evolves through hidden forces such as gravity, energy and tension. Producing sculpture, installation and print, her process often incorporates research into scientific concepts. She was artist in residence at Mullard Space Science Laboratory (UCL) in Surrey from 2018-2019 where she followed the ESA's Euclid Mission. With an MA in Art and Science from Central Saint Martins London (2018), she exhibits internationally and won the UK National Open Art Prize 2017. Lisa has been a member of the MVA and Cultural Considerations Working Group since 2018. www.pettibone.co.uk
Register to participate in the webinar:
https://www.eventbrite.com/e/literary-luna-tickets-132399589737

or watch live on the MVA Facebook Page.
The admission in the webinar will be on a first come first served basis.
Visit the Cultural Considerations Working Group website lunarology.space