Governance of Global Moon Exploration and Settlement Episode 4: Best Practices for Sustainable Lunar Activities – The way forward
October 16, 2020
@
15:00
–
16:30
CEST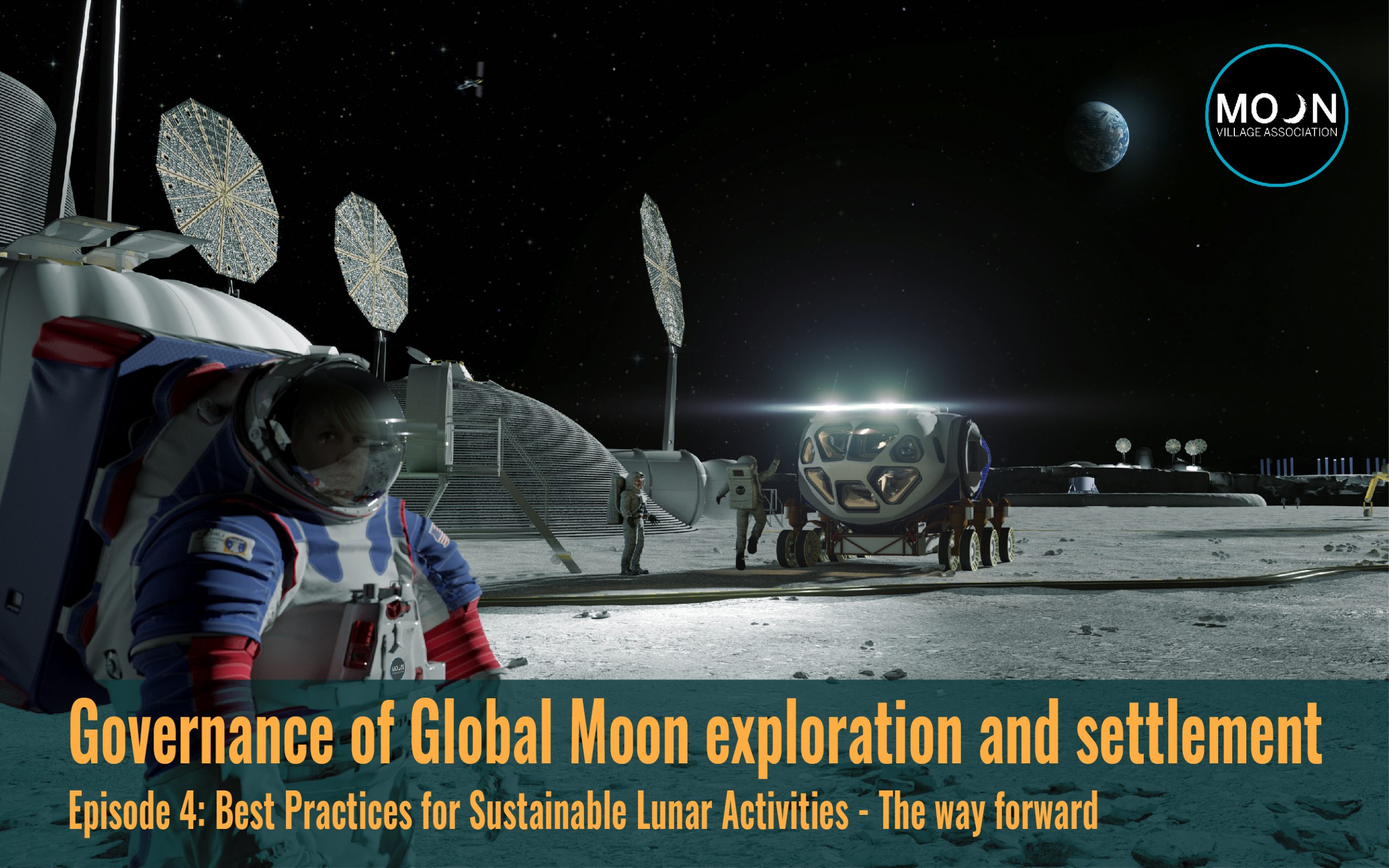 Both the United States and China have revealed their plans to return people to the Moon in the near future. Many other countries, as well as private companies, will partner with the U.S. and China in these endeavors. As these missions move forward, the risk for interference or conflict arising from competition for sunlight, ice, and land will grow. In order to reduce this risk, a set of basic ground rules must be implemented. NASA has begun the process of establishing these rules among its partners in the Artemis Project through a series of bilateral agreements. But the Artemis Accords are aimed to Artemis partners only. The Moon Village Association's Best Practices for Sustainable Lunar Activity fill this gap by providing a process for developing multilateral ground rules for all countries that are heading to the Moon.
The Principles were issued last March by MVA and following 6 months of public consultation, including several webinars, will be presented in its present form.
This webinar will be the last of the Governance episodes and will present the proposed way forward to implement the Best Practices, in the short and medium to long term as well as provide a sneak preview of the 1st Online Global Moon Village and Workshop, 9-10 November where some announcement are expected.
The panelists will discuss:
Best Practices for sustainable lunar activities, updated version
Implementation strategy:

In the short term, as this will reduce the risk of involuntary accidents and harmful interference, increase confidence building, promote peaceful cooperation, and ensure that lunar activities are conducted in a sustainable manner.

In the medium to long term, the importance of COPUOS will be discussed, to increase the consensus to the Best Practices, with specific reference to the developing countries.

Preliminary Programme of the 1st Online Global Moon Village Workshop & Symposium
Register on Eventbrite to participate in the webinar:
https://www.eventbrite.com/e/governance-of-global-moon-exploration-and-settlement-episode-4-tickets-124546839951
or watch live on the MVA Facebook Page.
The admission in the webinar will be on a first come first served basis.
Speakers:
Niklas Hedman – Chief Committee, Policy and Legal Affairs Section, Office for Outer Space Affairs United Nations Office, Vienna
George A. Danos – Chairman of the Local Organizing Committee (LOC) of the 1st Online Global Moon Village Workshop & Symposium, CEO of Cyprus Space Exploration Organisation (CSEO)
Steven Freeland –

Professor of International Law, Western Sydney University, Australia

Mark J. Sundahl – Director, Global Space Law Center, Cleveland State University
Giuseppe Reibaldi – President, Moon Village Association
Program:
3:00 – 3:15 pm: Introduction/Strategy for implementation (Giuseppe Reibaldi)
3:15 – 3:35 pm: MVA Best Practices for Sustainable Lunar Activities, updated version following consultation (Mark J. Sundahl)
3:35 – 3:50 pm: COPUOS role (Niklas Hedman)
3:50 – 4:00 pm: 1st Online Global Moon Village Workshop & Symposium (George A. Danos)
4:00 – 4:25 pm: Q&A (Moderator: Steven Freeland)
4:25 – 4:30 pm: Conclusions (Giuseppe Reibaldi)