Webinar – MVA Architectural Concepts Working Group
September 14, 2020
@
16:00
–
17:30
CEST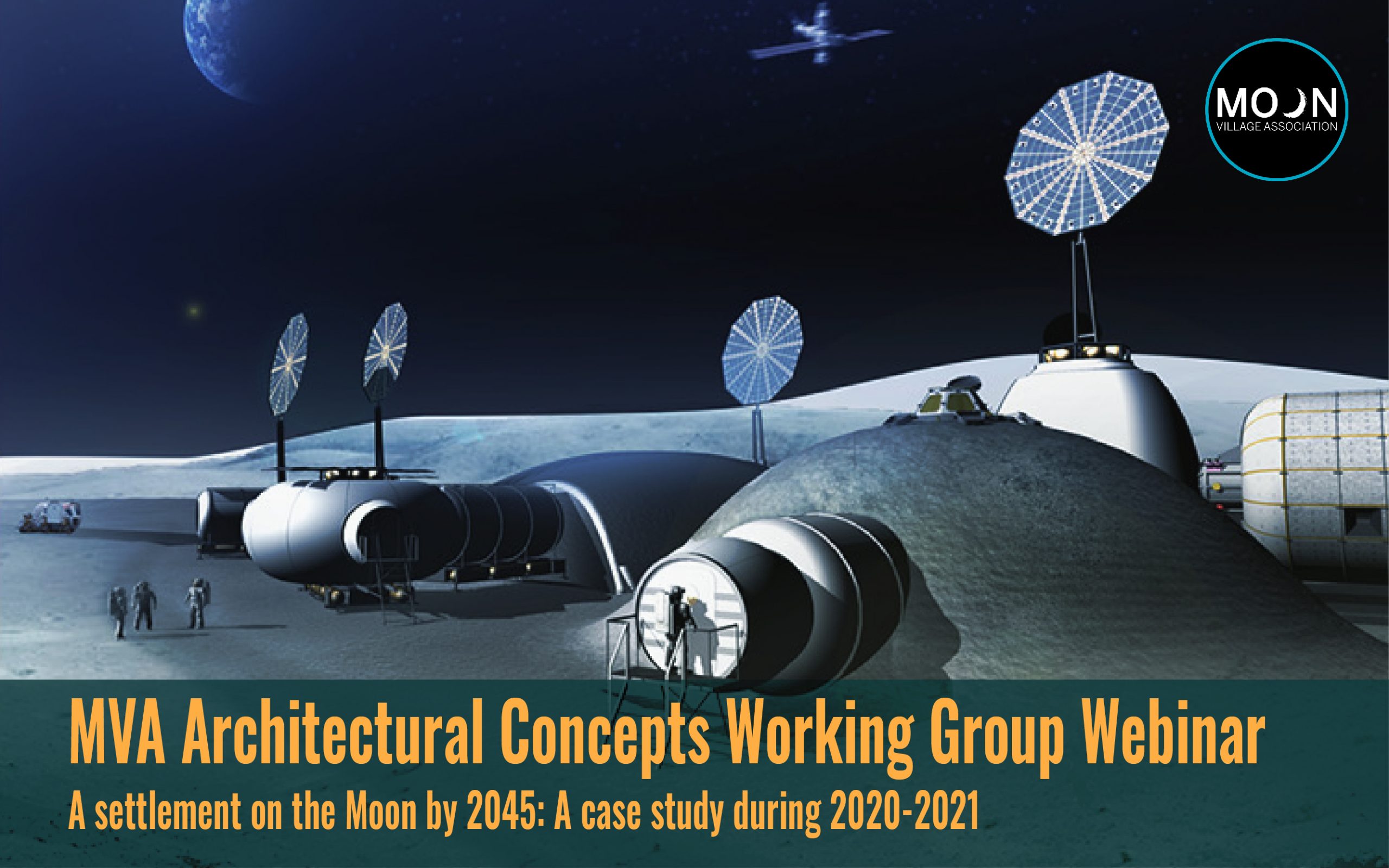 The world is going to the Moon together. Over the coming 6-7 years, dozens of cubesats, orbiters, landers, rovers and sample returns from up to a dozen countries will be heading to the Moon. The primary focus will be on the science, exploration and on prospects for development of the Moon – with a clear emphasis on the lunar south pole, where large-scale deposits of water ice and other volatile materials are believed to exist.
Numerous space agencies worldwide are now sponsoring projects – including NASA, CNSA, JAXA, ESA, RSA, ISRO and others – which will lead during this decade to humanity's return to our Moon.
The Moon Village Association (MVA), a non-governmental organization (NGO) formed in Vienna to advance the goal of a global Moon Village (MV), through its MV Architectural Concepts and Considerations Working Group (MV Architecture WG) is during 2020-2021 conducting a focused 'case study' examining the ambitious goal of establishing a biologically self-sufficient settlement on the Moon by 2045. Topics include: siting for such a settlement (considering current plans), key 'building blocks' that would comprise such as settlement, interoperability, and more.
Program
The event will be held during 16:00-17:30 CEST on 14 September 2020 (Monday in Europe). It is being organized as a 'workshop-webinar': about 50% of the planned 1.5-hour discussion will be dedicated to presentation of the current MV Architecture WG Lunar Settlement Case Study; co-Chair of the WG, John C. Mankins will present.
Register to participate in the webinar: 
https://www.eventbrite.com/e/mva-architectural-concepts-working-group-webinar-tickets-119257371007
or watch live on the MVA Facebook Page.
The admission in the webinar will be on a first come first served basis.

Closing
Humanity is going to the Moon; you have the opportunity to join this endeavor and to contribute now to developments that will play out during the remainder of this Century. Please join this working discussion, and to consider joining the Case Study team is it continues efforts to define the first lunar Settlement over the coming year.
This event will be one step in the ongoing Case Study, with additional events being held later this year and next; the details of this plan forward will be discussed at the meeting. For more information, please go to:
https://moonvillageassociation.org/about/working-groups/architectural-concepts/